Home
The 32nd FOC Florida Dinner, December 2, 3 and 4, 2022
(last updated September 20, 2022)

The 32nd FOC Florida Dinner will be held at the Holiday Inn Orlando Airport December 2, 3 and 4, 2022. The hotel is a familiar venue for this event, and we are working with the management team at this now completely renovated hotel to make this event a memorable occasion. The hotel is conveniently located less than a mile from Orlando International Airport.
Rooms, which include a continental breakfast for 2, can be booked on-line at First Class CW Operators Club. The First Class CW Operators Club group code is FC1 for rooms over the December 1-5, 2022 period. The rate is $119 per night, plus tax. If you want to arrive earlier or stay longer, you can obtain the group rate by calling the hotel at 833-425-0905 and ask for the FC1 group rate for the length of your planned stay.
A hospitality room on December 2, 3 and 4 will provide a place for attendees to relax, visit with others, and to operate via a remote station.
Many things have made the Florida Dinner a great event. These scenes from 2021 show some of the reasons.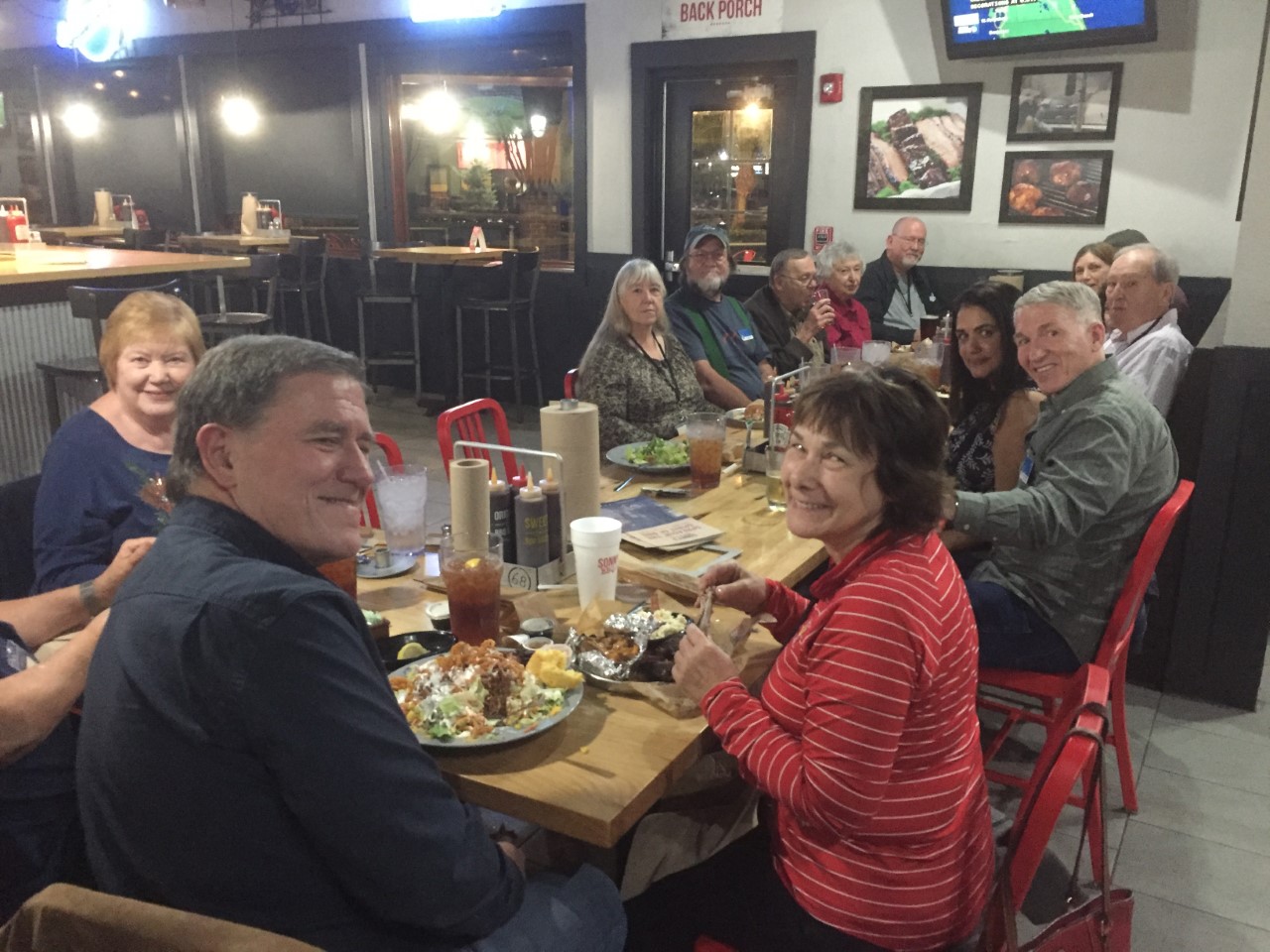 Early attendees gather Friday night at High Tide Harry's restaurant.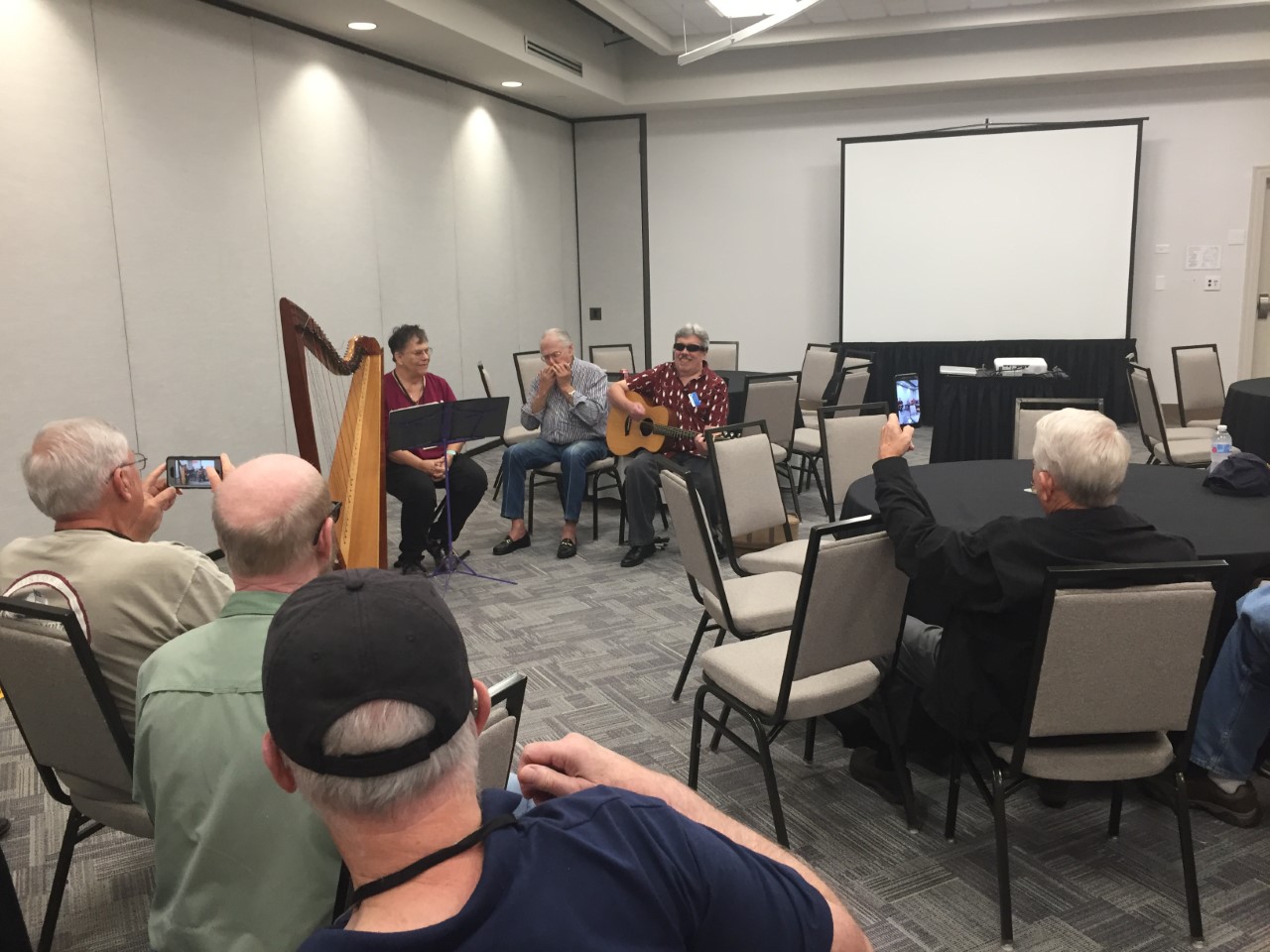 Bonnie WB4FSF, Lee W4EDE and Dave W4CI provide music.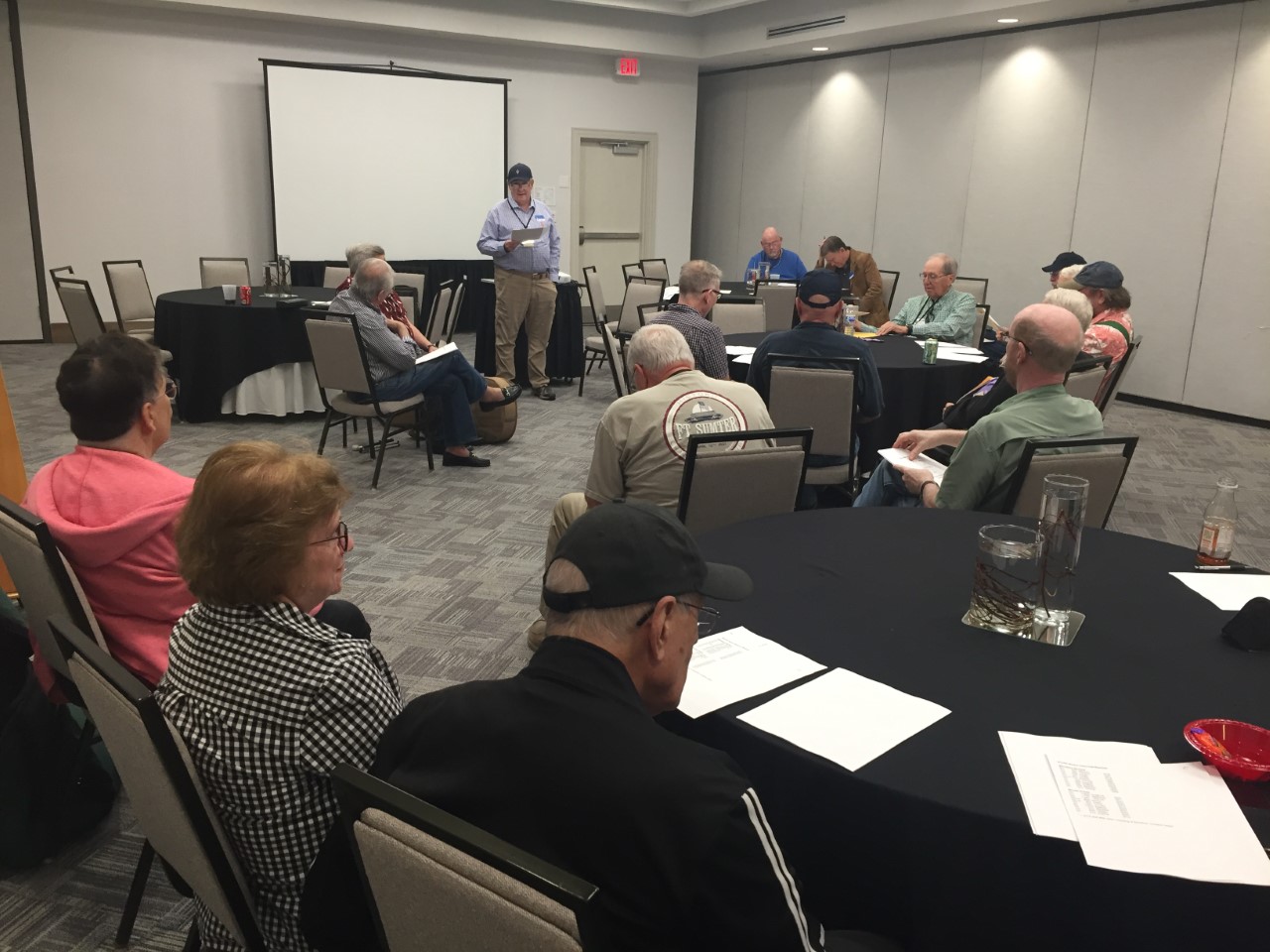 Puck W4PM discusses the Windle program.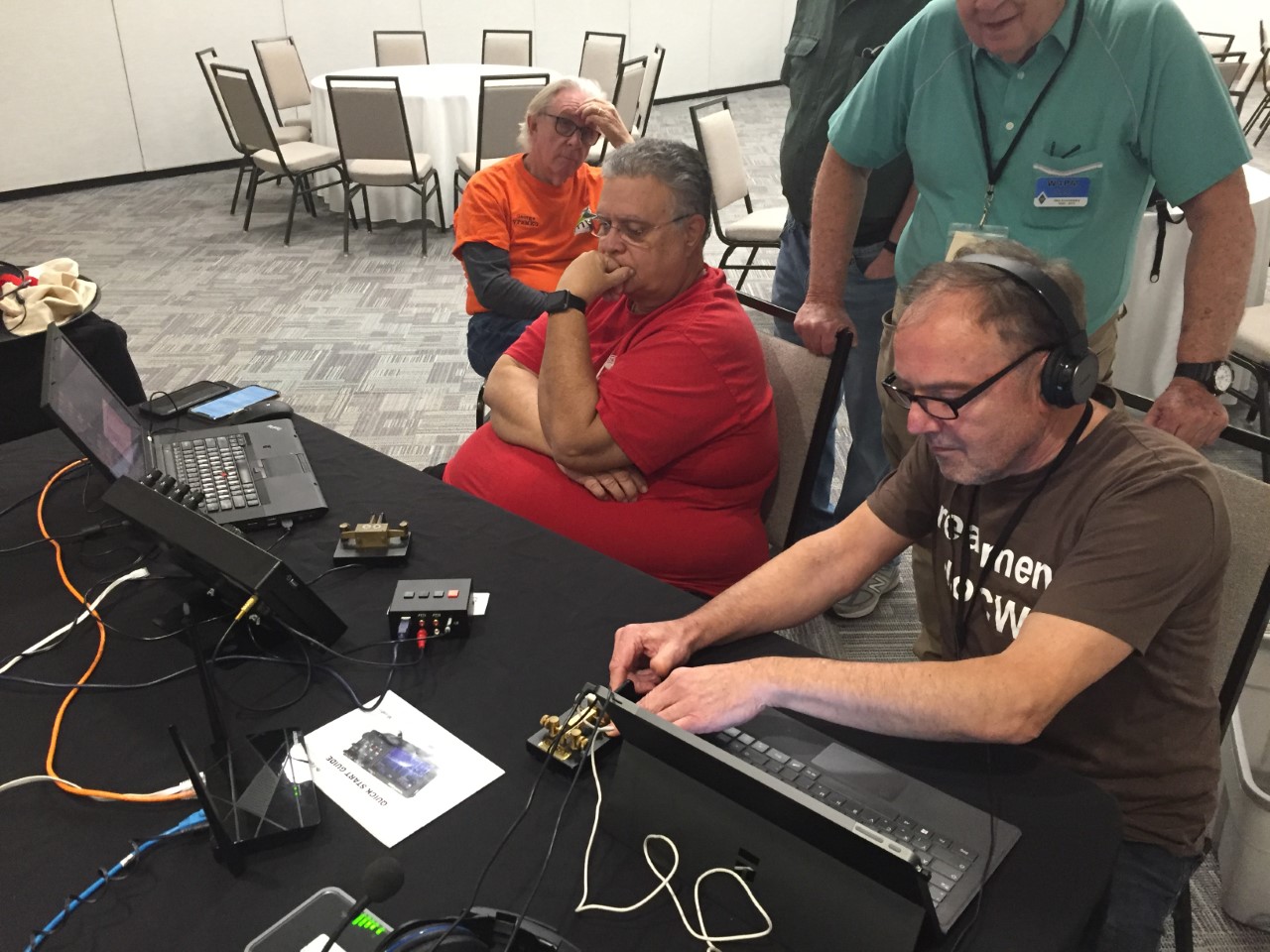 Armin DK9PY and Lu W4LT operate the W4FOC event station.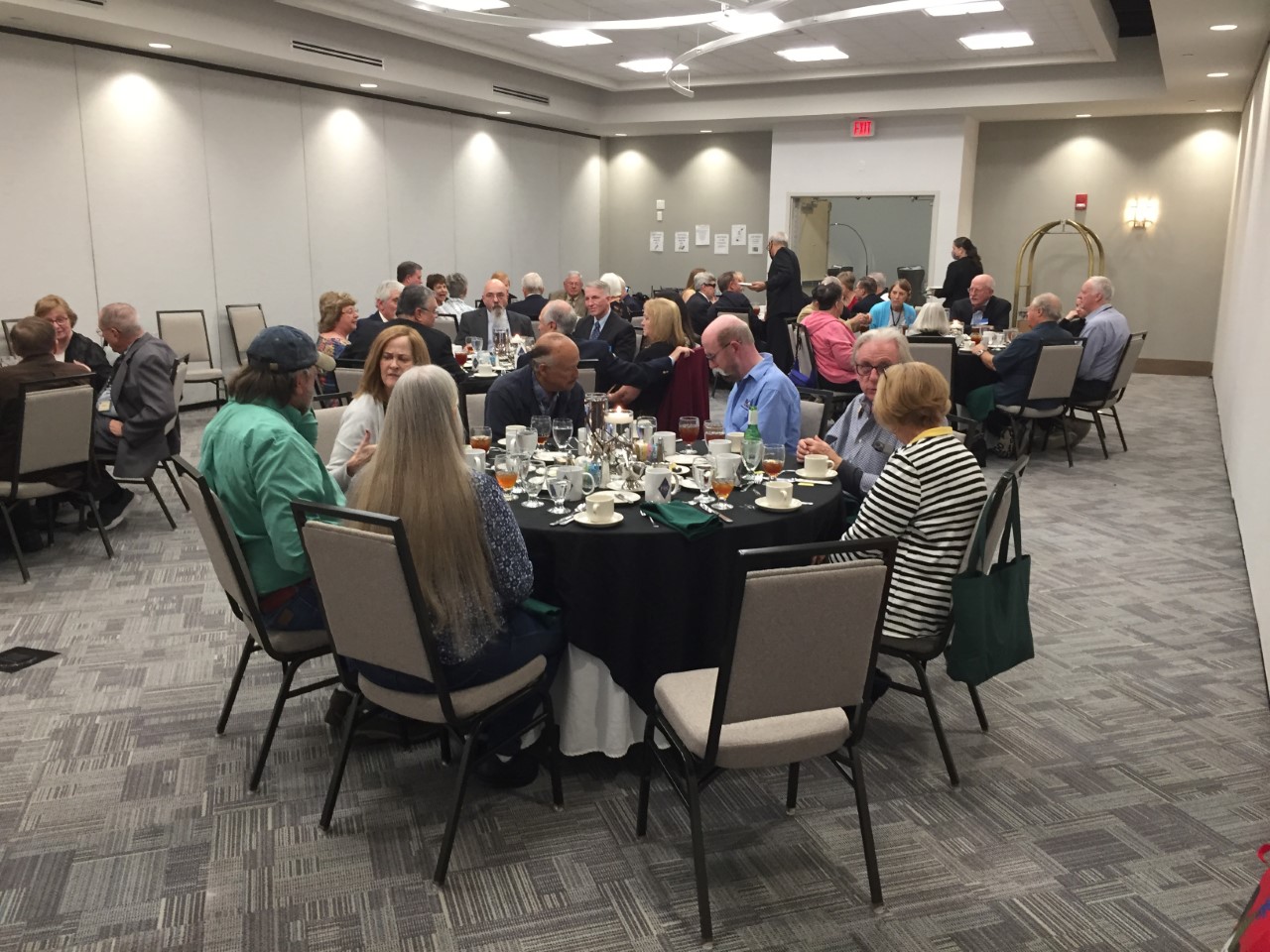 Everyone enjoys the banquet.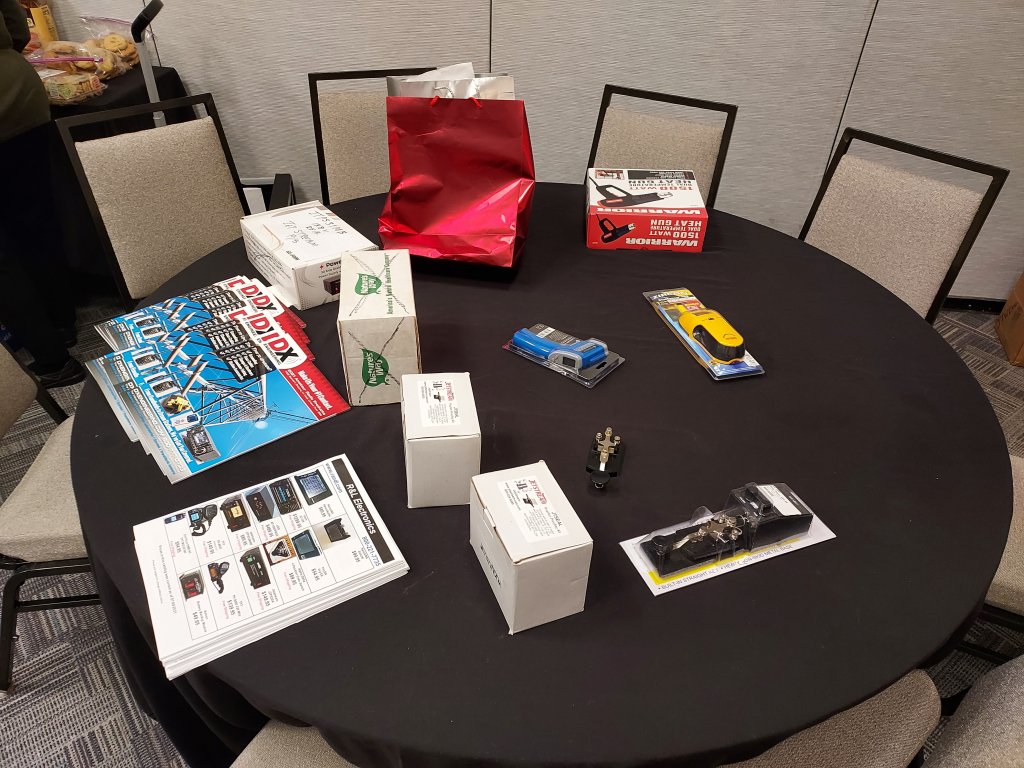 T

hese are but a few of the prizes from the raffle; some gifts come from vendors.
Schedule
5:45 p.m. - meet in the hotel lobby for a short walk to the nearby Sonny's Barbeque.
9:00 a.m.; set up the station in the hospitality room on the main floor of the hotel; see

The Florida Dinner Station

section later on this page for details about the station and the call to use;

1:00 p.m. or earlier, if possible -- the hospitality room opens with the station available;

5:00 p.m. - the hospitality room closes;

5:30 p.m. - meet in the lobby, proceed via hotel shuttle or private car to the nearby High Tide Harry's Restaurant.
9:00 a.m. - hospitality room opens; bring your raffle items to the hospitality room any time during the day;

1:00 p.m. - the afternoon programs begin (location to be announced);

1:00 p.m.; Musical Jam Session by Dave W4CI, Bonnie WB4FSF and Lee W4EDE;

1:30 p.m.; a presentation on Submarine Warfare by Dave W1DV;

3:00 p.m.: Video and description of a February 2020 ISS QSO with Kittredge Magnet School, Atlanta, GA 5th grade science class by teacher Charamie DeMarco W5FRM (Charamie is K5TF's daughter and she is custodian of the school's amateur radio club KQ4KMS);




6:00 p.m - hospitality room closes;

6:30 p.m. - cocktails at the Holiday Inn Bar;

7:00 p.m. - banquet in the Holiday Inn main floor pergola (canopy); raffle tickets will be distributed;

After dinner - raffle in the hospitality room, conducted by Jerry KC4YDP, using the tickets distributed during the banquet;

After raffle - announcements, presentations and a closing meeting; the hospitality room will remain open for informal gathering.
Banquet and Registration Fee

The fee for the Saturday night banquet and hospitality room is $100 per person. Please pay it to Dick Baxter with a check made out to the First Class Cw Operators Club and send it to:
Dick Baxter, K5TF
1416 Stratfield Circle
Brookhaven, GA 30319 USA
The Florida Dinner Station
The station radio is a Flex 6400 with a remote Maestro located in a guest room on the hotel's sixth floor - when it is known, the room number will be posted. The station will have Internet connectivity. The Flex 6400 is at K5KG's station in Sarasota, FL, where it takes advantage of his antennas. George and Lu Romero, W4LT, collaborated in its setup.
Two FOC call signs are available for use, KM4FOC of the Southern members of FOC, whose trustee is K2SX; and the traditional W4FOC Florida Dinner station call, whose trustee is W8KJP.
Please exercise care and use your own call sign when operating in the ARRL 160 meter contest so that others, operating in the same contest, can work the same stations you did. Use NFL as your ARRL section in the contest.
K5KG has provide a laptop PC for computer logging of either FOC call sign -- N1MM+ will log for KM4FOC during the 160 meter contest and for W4FOC at all other times. Paper log forms are available for you to log your own QSOs as well.
Banquet Menu
The banquet will be a plated dinner, served by the Holiday Inn catering staff in a main floor private dining room. There are two plate choices and each comes with:

Wild arugula salad with purple ninja radishes, walnuts, fine herbs and vinaigrette dressing
Guinnes chocolate cake with soft, whipped caramel crème
Coffee and tea (hot and iced))
Seared Pacific Salmon Plate choice with:
Delicate squash
Wild grains
Garlic lemon butter
Or
Carmelized Diver Scallops Plate choice with:
Cauliflower mash
Grilled carrots
Lemon sauce
Raffle

The traditional Florida Dinner Raffle will be held Saturday night after the banquet in the hospitality room, Jerry, KC4YDP, presiding.
Jerry makes these suggestions about gifts:
Attendees should bring a gift for each attendee. This means if you are alone, bring one gift. If you are accompanied by someone else, bring two gifts.

Bring gifts suitable for men or women.

Gifts may be left in the hospitality room where Jerry will arrange them for the raffle.

During or slightly before the banquet, Jerry will pass out numbered raffle tickets. Their matches will be drawn to manage the awarding of raffle gifts and prizes from vendors.