Home
The 29th Annual FOC Florida Dinner, December 1 and 2, 2018
(last updated November 27, 2018)

Plans are in place for the 29th annual Florida Dinner, December 1 and 2, 2018 at the Holiday Inn Orlando Airport, Orlando FL. The hotel has been completely remodelled and those who have come to dinners in previous years won't recognize anything in these pictures of the front desk or the bar.
Pictures courtesy of W8KJP
Here is the tentative agenda:
Thursday, November 29

: informal dinner at Sonny's barbecue within walking distance of the hotel; leave from hotel at 5:45;

Friday November 30: hospitality suite (rooms 640, 641 and 642) opens at 9 a.m. for W4FOC setup; in the evening there will be an

informal dinner at High Tide Harry's seafood restaurant, traveling there in a hotel shuttle that will leave at 5:30 p.m.;

Saturday December 1: hospitality suite opens at 9 a.m. with the W4FOC station available for use; snacks and drinks will be available;

hospitality room closes at 6:15 p.m.;

Presentations Saturday afternoon in Gallery III;




Saturday night: banquet in the hotel pergola (canopy) on the main floor;

gather in the bar at 6:30; banquet seating begins at 7 p.m.;




Saturday night after the banquet: the traditional raffle in Holiday Inn Gallery III;




Saturday night after the raffle: gather in the hospitality suite for more conversation and conviviality.
Please let Vic Abell, W9RGB, <abe@purdue.edu> know via e-mail if you're coming, how many are in your party, if you are making a hotel resrevation and what nights you will be dining with the group.
The Florida Dinner hotel is the Holiday Inn Orlando Airport. We have arranged a group rate of $129 per night for a King Single room at the hotel. That rate applies to rooms booked any nights between Wednesday November 28 through Tuesday December 4, 2018; a room at that rate must be booked on or before November 9, 2018.

Reservations may be made at the web address
First Class CW Oper
ators Club
with the group code OOD. Reservations may also be made via telephone at (407)-851 6400, using the OOD group code. (Please note that reservations made under the OOD group code help defer costs that the organizers accrue at the hotel.)
The Orlando Airport hotel is located at:
Telephone: (407) 851 6400.
The hotel operates a free shuttle from the Orlando International Airport. Call for it at (407) 709 5310.
The Saturday night banquet in the hotel pergola outside Gallery IV and V will be a buffet. The menu shown here earlier in May has been replaced with this new one:

Baby Lettuce, Grape Tomatoes, English Cucumbers, Brioche Croutons & Sherry Vinagrette
Organic Atugula, Watercress, Heirloom Beets, Cypress Grove Goat Cheese & Fig Balsamic Glaze
Black Angus Sirloin with Chipotle Bleu Cheese Butter
Hunter Style Braised Chicken
Grilled Gulf Shrimp with Citrus Butter
Orecchiette Pasta & Grilled Vegetable tossed with Sundried Tomato Pesto
Herb Basmati Rice
Dinner Rolls
Coffee and Tea (Hot & Iced)
Cost of the banquet is $80 per person. Please pay in advance by PayPal to abe@purdue.edu or by check to:
Victor Abell
1715 Summit Drive
West Lafayette, IN 47906
USA
If you choose to pay via PayPal, please make sure to include your call sign.
Raffle
The traditional Florida Dinner raffle will follow the banquet in Holiday Inn Gallery rooms 5 and 6. Each person attending is encouraged to bring a prize. The FOC Committee, DX Engineering and R&L Electronics have contributed prizes that will be awarded in addition to the prizes brought by attendees.
From the FOC Committee is a Begali HST III paddle. It is a single lever paddle that can be converted to a sideswiper (cootie key) with a toggle switch on top of its base.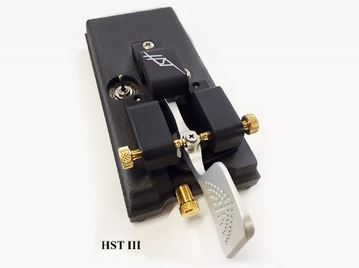 From DX Engineering are a N3ZN ZN-9 paddle and two $100 gift certificates. The ZN-9 is a dual lever paddle.
From R&L Electronics come two JTSEAL weatherproofing kits.

Saturday Afternoon Programs
The Saturday afternoon programs will be presented in Gallery III.
1 p.m.: WRTC Report, George Wagner, K5KG




2 p.m.: FOC 80 and DX trip reports, Iain Kelly, M0PCB



Courtesy of Alan, W4MQC, we have a special door prize for attendees this year.
Alan has arranged to have these FOC coasters prepared.